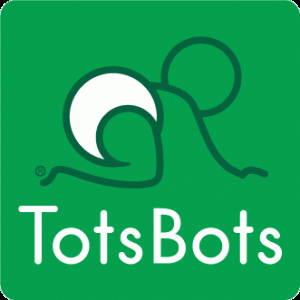 Oh Tots Bots, how we LOVE thee. Soft, squishy cuteness – what more could you want in a cloth diaper?
Depending where you're at in your cloth diapering journey, you may recall the previous version of the Tots Bots All In One Easy Fits had a bamboo and microfiber combo inner. Then the current version released about 2 years ago switched to a full minky interior in the cloth diaper. But, they're in short supply of late. So what's up? Where is plentiful stock of this great all in one cloth diaper?
Well, a BRAND NEW version of the Tots Bots Easy Fit is coming, with all new prints, plus a change to the inner material.
Here's the scoop on the new version:
All New Prints as pictured below, plus your regular faves in solid colors
A 'binky' interior, which features a combo of bamboo and minky. This gives you the option of putting bamboo against baby's skin!
No more snaps – just hook & loop (velcro type) closure. Hands down Tots Bots has the industry leading hook & loop in my opinion.
But WHERE are they?
It's definitely been a looooooong time since Tots Bots announced the new version. But still no stock. So what gives? Why can't we get our hands on this adorable cloth diaper here in Canada?
First, there are always time lags when something new is released. Think home renos – everything always takes longer than expected and never goes quite according to plan.
Second, sometimes in business, a big struggle for small businesses is insane growth. It sounds weird, right? Growth is great! Love for cloth diapers is awesome! But sometimes it's hard to have the capital to produce a high enough capacity of cloth diapers quickly enough to meet demand. Tots Bots is doing everything they can to meet the demand in the North American market, and get the diapers out to us, but it's taking time.
So WHEN will they arrive?
Tots Bots hasn't given us an official date still. But they have said the diapers are in production and we have ordered them. Next step is they need to make their way to us. My best guess is they will arrive to us sometime in May. Keep in mind this is merely a guess and we can't be for certain, but that seems realistic at this point. Just the Easy Fits will be arriving in this shipment, and it's entirely unknown when the Tini Fits will arrive (sniff, sniff, we miss them!). They will be coming back, but we don't have an ETA on when from Tots Bots.
When can you PREORDER?
We know with the stock issues and excitement for this release many of you will want to pre-order your new fluff! We will put up the pre-orders once we have a much clearer expectation of arrival of the diapers. So hang tight, and we will keep you posted!
In the meantime, check out the serious cuteness of the new Nursery Rhyme prints that will be on their way! Comment below … which one is your fave?
                                                 Hey Diddle Diddle            Incy Wincy

Humpty Dumpty               Sixpence              Hickory Dickory Dock