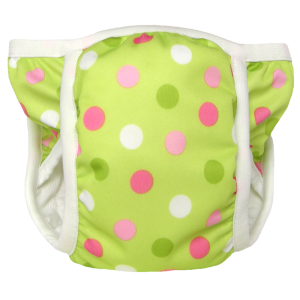 The adorable, all new Bummis Potty Pant has arrived at New & Green. At first glance of the product pictures, you might find the Bummis Potty Pant to be a bit of an odd looking trainer. Do not let these images deceive – this new trainer has got to be the cutest little trainer on the market.
What makes this new cloth potty trainer so great? They are extremely trim fitting. They pull and up and down for easy on and off, but really, they truly resemble underwear far more than they do cloth diaper trainer.
The Bummis Potty Pant is available in sizes small, medium, large, and extra large. The customized sizing means that this little cloth trainer will fit your munchkin to a tee. Currently it is available in white and pistachio dot. A more boyish version, Denim Dot, will be available in April.
At a great price point, we're pretty sure these are going to fly off the shelves and right onto little tushies everywhere.