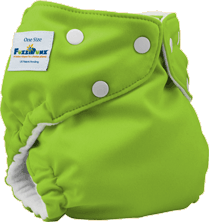 If you've been trolling for FuzziBunz One-Size Elites, you will notice that at New & Green they are currently out of stock and similarly so with other cloth diaper retailers.
Why you might ask? FuzziBunz is releasing a brand new version of their one-size cloth diaper. We are hoping to be able to order the new diapers towards the end of January, assuming no production delays (which can happen in the world of cloth diapers!).
Rumor has it the new FuzziBunz one-size diapers will be reverting back to the microfiber inserts, and they will also feature a wider stuffing area so your hand doesn't get stuck in it. The other benefit of the re-design means that most standard inserts will fit into the FuzziBunz cloth diapers moving forward, making it much easier to change out your inserts, add extra ones, and so forth.
We are super excited to see the new version and cannot wait until it arrives. It won't be long now until the newest version of this long-time favorite cloth diaper hits the shelves.
FuzziBunz, Fuzzi Bunz, Fuzzibunz cloth diapers