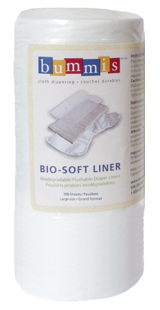 A big Bummis shipment arrived today with more cloth diaper favorites….
We have re-stocked the following:
1. Bummis Bio Soft Flushable Liners. These handy little liners look just like a dryer sheet but are soft as can be. Lay one on top of baby's diaper before fastening and it will help catch the poop making dirty diaper clean ups a breeze.
2. Bummis Swimmis – Whether it's the pool, the beach or your backyard, Bummis Swimmi diapers are the best when it comes time for your little one to splish splash. These reusable swim diapers fit great and work well.
3. Bummis Organic Cotton Prefolds. A cloth diapering staple. These high quality, organic cotton prefolds are super absorbent. Economical and durable, prefolds are a great option whether you are diapering a newborn or a toddler. Available in newborn prefolds, infant prefolds and baby prefolds sizes.
You will notice that we are still out of stock on Funk Rock and getting low on other Rockin' Green products. Rockin' Green has experienced some significant (and usual) production delays but we are hoping to see more product rolling onto our shelves within the next week or two.