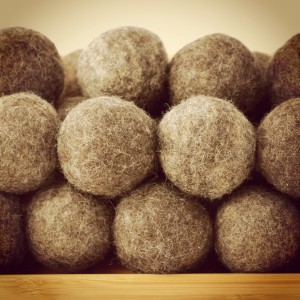 We love, love, love these wool dryer balls!
We have re-stocked our shelves in both natural color and spruce (now discontinued).
What makes wool dryer balls so great? They can significantly reduce the drying time needed to get your cloth diapers, clothes, sheets, towels, etc. dry!
On first glance you may find dryer balls expensive, but remember, on average you need about 4-6 balls and you can significantly cut your drying times.  How much so? By 20-40%. They will last year after year so they are a wonderful investment.