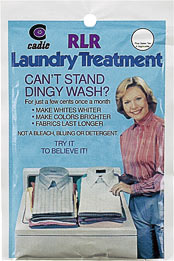 We love the RLR treatment for Cloth Diapers. It's pretty much one of the best options out there for stripping your diapers and doing it affordably!
Use 1/2 pack of RLR for front loading machines and 1 pack of RLR for top loading machines. Put it in the hot wash cycle along with your detergent and then rinse like crazy afterwards.
How many rinses you need to do of your cloth diapers after using RLR varies. We typically recommend at least 3, and it is often useful to peek in the washer to see if there are any bubbles. If you see bubbles, keep rinsing. The more build up, the more rinses you will need to do.
If you are looking for other ways of beating ammonia in cloth diapers, or cloth diaper detergent build up, other options for stripping cloth diapers include GroVia Mighty Bubbles and Rockin' Green's Funk Rock.
RLR, RLR for cloth diapers, stripping cloth diapers