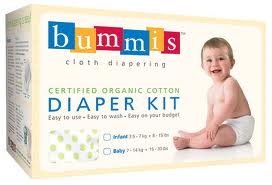 Who doesn't love convenience? Having everything in one box is so easy, especially for new parents. There's no guess work involved! That's why at New & Green Baby Co., we love the Bummis Organic Cotton Cloth Diaper Kit, in either infant or baby size! So what's in the box?
Organic Cotton Prefold Inserts are luxuriously soft; they're also a very economical choice. You can dive into cloth diapering without a big outlay of cash.
This kit also includes flushable Bio-Soft Liners (a simple way to help clean up after poopy diapers), a selection of diaper covers, plus a step-by-step guide to no-fuss diapering that will make the initiation to cloth an easy one. Don't be intimidated by prefolds – you can just fold them in half and lay them inside the cover and just like that you're ready to go.
There's no need to sacrifice convenience when you use cloth.  You'll get all the basics right in one box from a tried and true Canadian cloth diaper manufacturer. The Diapers in the kit are Certified Organic Cotton and the wet-proof covers industry gold standard, are breathable and made within the high manufacturing standards of Canada. Your accessories are selected to make your experience more convenient than you thought possible.
Take some of the stress out of choosing cloth diapers, add this great kit to your cart now, or check out some of our other options.