AMP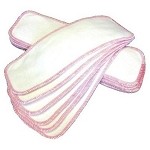 Boosters in natural fibers give extra absorption with minimal bulk.
There are: 2-layer hemp (blue edge), 3-layer hemp (red edge) and 2-layer bamboo (green edge).
Boosters are perfect for giving a little "oomph" to cloth diapers for naps, overnight, heavy-wetters or babes that are growing out of sized cloth diapers. The thirsty 3-layer hemp can even be used as an insert for newborns.