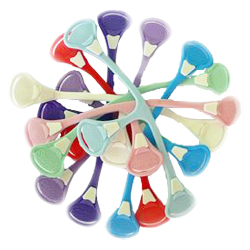 We love it when someone comes up with a genius idea that makes cloth diapering easier. In this case, it's the snappi.
What is a snappi you ask? Well, it's a modern day cloth diaper pin! Instead of having to worry about poking and pricking baby, these nifty little fasteners will make it easy to wrap a prefold diaper on your baby and hold it in place. Then just add a diaper cover on top and you're good to go!
The snappis are available in a wide range of colors, and we just re-stocked the double packs which offer a great discount over buying individually.
If you enjoy cloth diapering with prefolds or flats, then you'll definitely love snappis!