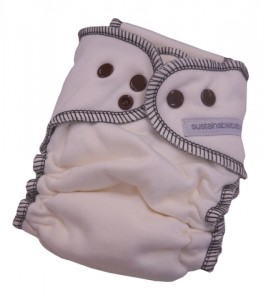 We heart, heart, heart Sloomb cloth diapers at New & Green. Why? Because they are crazy absorbent. They work amazing for night time cloth diapering. Seriously – these sloomb cloth diapers will beat any super soaker.
Currently, we offer the sloomb snapless multi diaper, which is a one-size diaper, with no snaps.  You can either use the pin that comes with the diaper to hold it on baby, or use a snappi!
The sloomb snapless multi diapers, aside from being one-size, are also awesome because the outer is a soft, bamboo terry material which really helps you get a good fit on your baby's body type.
We also offer the sloomb bamboo fitted diapers. These close easily with nifty little snaps, and they are available in sizes small, medium, large and extra large. They are also a very popular option from sloomb, again, particularly for night time diapering solutions.
sloomb, sloomb diapers canada, sloomb snapless, sloomb fitted diaper