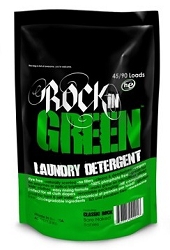 We have a lot of love for Rockin Green Cloth Diaper Detergent at New & Green. Because…it rocks!
Rockin' Green Detergent is available in three formulas: soft, classic and hard.
Soft Rock is designed for doing cloth diaper laundry in areas with soft water. Classic Rock is designed for laundry in areas with 'regular' water. And Hard Rock is designed for areas with hard water.
The Classic and Hard Rock versions of this cloth diaper detergent are available in some awesome scents: Lavender Mint, Motley Clean, and Smashing Watermelons. Of course, the popular scent-free version Bare Naked Babies is also available.
If you're looking for a great detergent for cleaning cloth diapers, give this one a whirl.
Rockin Green, Rockin Green Detergent