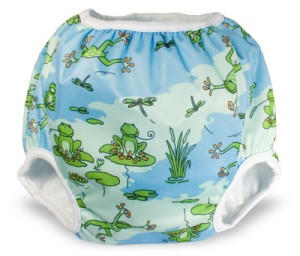 Bummis Potty Pants are an excellent tool in active toilet training.  Like any new skill, children need teaching, guidance and repetition to master it.  Using smart  tools to help with achieving success will make toilet training a more positive and enjoyable experience.
Here is a bit about the trainers and some tips and ideas for using and washing them:
Bummis Potty Pants are not meant to replace diapers; they are simply intended to provide an "underwear" experience for the child with the bonus of having some absorbency built in along with a waterproof outer layer.  These trainers will hold one to two toddler pees if needed.
Bummis Potty Pants feature one layer of long loop cotton terry and one layer of microfiber.  The advantage to this is that your toddler will receive immediate feedback when he/she begins to pee.  The wetness is a means in which to restore and/or reinforce the association between the feeling and process of peeing with the goal of eventually being able to recognize the feeling of needing to pee with the knowledge of what to do when you have this feeling.
Bummis Potty Pants have a waterproof outer layer; the same fabric that is used with their industry gold standard diaper covers.
Bummis Potty Pants are stretchy and trim for skinny minis to chunky monkeys.  Toddlers will have a greater success if the trainers are not too tight and they are able to pull them down and up without too much strength and motor planning.
Before use, for optimal performance, the trainers should be washed inside out 3-5 times on hot with a additive-free (no extras) detergent.  This will help the cotton become absorbent by stripping the natural oils from the fabric and plumping up the fibres.

Eco-friendly additive-free detergents we carry include:

Laundry Tarts

Washing routine – for wet and soiled trainers, run a cold soak/rinse cycle followed by a hot wash with an approved detergent.  If using a conventional detergent, reduce the amount recommended by half.  Dry in dryer or line dry.  Recommend washing inside out for best results and faster drying time.  For wet only trainers, you can skip the rinse cycle.
And lastly, some general info on toilet training.  There are a couple of threads of commonality woven throughout today's common philosophies:
The process of helping your child to learn how to eliminate in the toilet needs to be a positive experience; your child should never be pressured into using the toilet
A parent's job is to observe their child's behavioural cues to determine if there are any consistent cues related to when the child wets or has a poop in their diaper
A parent must provide opportunities to try and use the potty/toilet at appropriate times
A child is often more successful with learning to use the potty when he becomes aware of the association of peeing and becoming wet.
Bummis Potty Pants are one essential piece of "equipment" that you'll need to assist your child in this transition.  Training pants signal a change from "what babies wear" to "what big kids wear" and also give parents and children easier access/ability to get clothing/underwear off to quickly use the potty.
Enjoy the process.  Remember every child is different and it can feel tricky at times but in the end, well worth the effort when your child learns that she has mastered using the toilet!