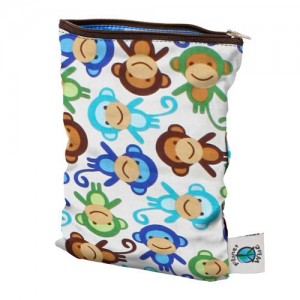 Planet Wise wet bags are the best! You can never have enough wet bags, particularly with so many uses beyond cloth diapers (shoes in a suitcase, swim suits at the pool).
Planet Wise bags are available in both wet bags, sizes small, medium and large, and in wet / dry bags as well.
One of the best features of this cloth diaper accessory is the range of prints and colors from which you can select! We just added a new print as well in the current shipment – the adorable monkeys print pictured!
The monkeys print is available in both the Planet Wise Wet Bags and the Planet Wise Wet / Dry Bags.