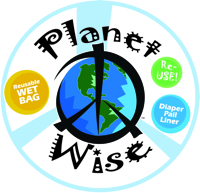 We adore Planet Wise products here at New & Green so we get really excited when a shipment arrives. Planet Wise makes some of the best prints and colors on the market and it's always fun opening the package and seeing everything!
This shipment brought lots more of the popular Kissaluvs Pail Liners, including the new colors slate (dark gray), green (deep jewel toned green), green giraffes (print), and seaspray (light turquoise).
We always recommend having two pail liners around. This makes it easy when one is in the wash you can still have a cloth diaper pail ready to go!