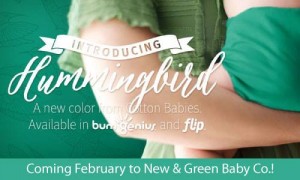 Yippee!! With Spring just around the corner, it's a great time for a new gorgeous color to cover your baby's tushie.
Yup, you've got it, bumGenius and flip have introduced an all-new solid cloth diaper color named Hummingbird.
Arriving in two weeks time, this vibrant, gender-neutral emerald green is an exciting homage to the discontinued and much loved Ribbit cloth diaper color.
New & Green is excited to get this colour available in the following styles:
For those curious, the 4.0 and freetime should be released in hook/loop at a later date.
Get your Hummingbird before St. Patrick's day and expand your colourful stash to include this exciting new green.